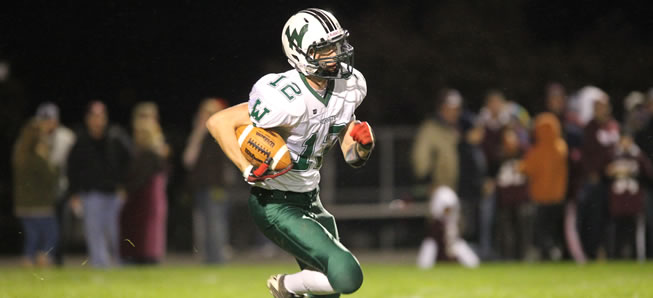 Callahan sets new records in loss to Troy
By: Ed Weaver | WellsboroFootball.com | October 23, 2010
The Wellsboro Hornets dropped the fifth straight game of the 2010 season as they fall to NTL Large School rival Troy, 58-20. Troy scored eight rushing touchdowns in the game as Lucas Havens and Matt Oldroyd reached paydirt three and two times, respectively. The other Trojan score came on a 34 yard field goal by Mason Jones.
Wellsboro struck mid-way through the second quarter as Senior Receiver Ethan Callahan returned a kickoff 91 yards for a touchdown. Callahan had six returns for 161 yards, ranking him first in Wellsboro's Varsity Football Record Books* for kick return yards in a game. Wellsboro's other two scores came when Callahan caught a 10 yard pass from Sophomore Quarterback Ben Shaw in the second quarter and Thomas Johnston scored on a five yard run with two minutes remaining in the game.
In addition to his kick return marks, Callahan is now 2nd All-Time for receiving yards in a single-season (600), 1st in receiving touchdowns in a single-season (9), and 3rd in kick return yards in a single-season (364).
Ben Shaw is now 3rd All-Time in passing attempts in a single-season (162), 3rd in completions in a single-season (74), 3rd in passing yards in a single-season (1,220), and 1st in passing touchdown in a single-season (13).
Thomas Johnston was once again the defensive leader for the Hornets. Johnston, had 16 tackles, one interception, and one forced fumble. Johnston now has 107 tackles this season, breaking the 100-tackle mark for the second consecutive year.
Troy improves to 4-4 on the year and 2-2 in the NTL Large School Division standings. Wellsboro falls to 1-7 overall and 1-2 in the league. The Hornets will be in action next Friday night as they travel to Towanda to take on the Black Knights. Kickoff is scheduled for 7:00 p.m.
* - Records may not be accurate to date due to incomplete stats. If you know of a record not currently listed on this website, or have game statistics or film from previous years, please contact us.