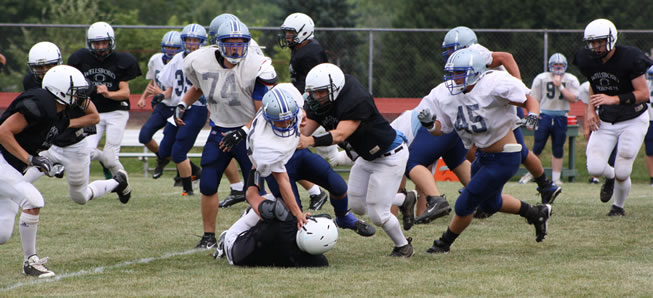 Hornets Begin 2010 Pre-Season
By: Ed Weaver | WellsboroFootball.com | August 21, 2010
The Hornets began their 2010 football campaign as they scrimmaged the Warrior Run Defenders. The Hornets held the Defenders in check during the first defensive series and started out strong offensively. Sophomore Quarterback Ben Shaw connected with Junior Running Back Thomas Johnston on the first series for a touchdown and followed up on the second series with a deep pass to Senior Receiver Ethan Callahan.
After the second teams units ran through a couple offensive and defensive series, the Varsity squads came back on the field to simulate game situations. Warrior Run broke through the Hornets defense for two quick touchdowns before the Hornets ended the scrimmage with Shaw connecting with Callahan on another deep pass.
The Hornets will be in action next Saturday as they scrimmage the Muncy Indians at 10:00 a.m. at Wellsboro.