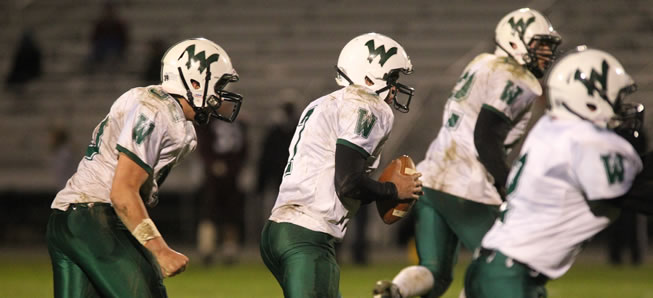 Hornets blown out at Towanda
By: Ed Weaver | WellsboroFootball.com | October 30, 2010
Towanda wins 2010 NTL Large School Division championship by blowing out the Wellsboro Hornets, 74-14. For the first five minutes of the game, Wellsboro looked like a contender to give the Knights a battle. Towanda struck first as Cody Miller fired a 21 yard touchdown pass to Zach Ripic, but missed the extra point.
Wellsboro bounced back when Sophomore Quarterback Ben Shaw connected with Senior Receiver Nick Saniga for a 20 yard touchdown. That would be all the scoring the Hornets could get until the final play of the game when Shaw connected with Senior Receiver Dylan Christman.
The loss drops the Hornets to 1-8 overall and 1-3 in the NTL Large School Division standings. The Hornets will be in action for the last time of the 2010 season next Friday as the host the North Penn Panthers in the annual Morton F. Jones trophy game and Senior Night. Kickoff is scheduled for 7:00 p.m.