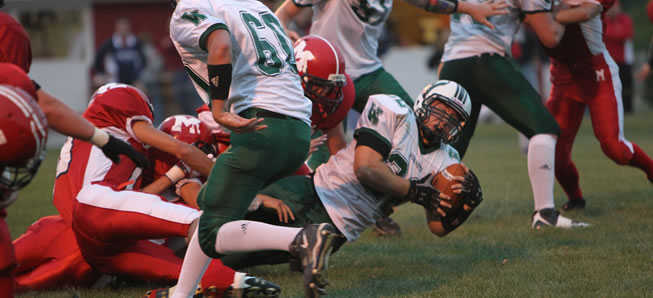 Hornets Drop Heartbreaker to Montgomery
By: Ed Weaver | WellsboroFootball.com | September 10, 2010
After suffering a tough loss to the Canton Warriors in week 1 of the 2010 football season, the Wellsboro Hornets bounced back but suffered their second defeat of the season as they fell to the Montgomery Red Raiders by the final score of 28-26. Wellsboro played better as a whole, but turnovers and penalties down the stretch killed the team and allowed Montgomery to hang for their first win of the year.
Wellsboro started off strong as Junior Running Back Thomas Johnston scored his first rushing touchdown of the year from one yard out to give the Hornets a 6-0 lead. From there on, however, Montgomery controlled the tempo for the remainder of the first half after causing a safety and four Wellsboro turnovers to take a 21-12 lead into the locker room. Wellsboro's other score of the first half came on a 16 yard pass from Sophomore Quarterback Ben Shaw to Senior Receiver Ethan Callahan.
Wellsboro struck first in the second half as Shaw found Callahan again, this time for 18 yards, to pull the score to 21-19. However, Montgomery bounced right back for their final touchdown of the night, as they returned the following kickoff 55 yards for a touchdown. Wellsboro was able to mount another scoring drive midway through the fourth quarter as Johnston plowed his way into the end zone from one yard out to bring the score to 28-26. The Hornets had a shot to score again, but turned the football over on downs twice within the final four minutes due to penalties.
The Hornets will be back in action next Friday as they travel to Westfield to take on the Cowanesque Valley Indians. Kickoff is scheduled for 7:00 p.m.