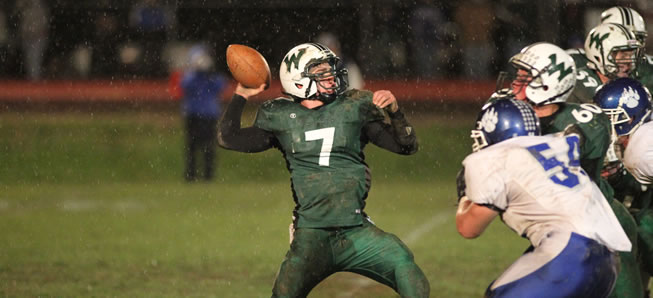 North Penn retains trophy
By: Ed Weaver | WellsboroFootball.com | November 5, 2010
For the second consecutive year, the North Penn Panthers won the annual Morton F. Jones Trophy rivalry against the Wellsboro Hornets by the final score of 55-14. With the loss, the Hornets finish the 2010 season with a record of 1-9 overall and 1-4 in the NTL Large School Division.
Wellsboro trailed North Penn 48-0 at halftime, but rallied back on a 14 yard touchdown run by Thomas Johnston and seven yard touchdown reception by Dylan Christman from Ben Shaw.
At the end of the game, six members of the 2010 Senior Class concluded their football careers. WellsboroFootball.com would like to congratulate Nick Saniga, Ethan Callahan, Tyler Estock, Dylan Christman, Andy Catherman, and Brenton Acorn on their hard work and dedication to the Wellsboro Football program over the last four years.