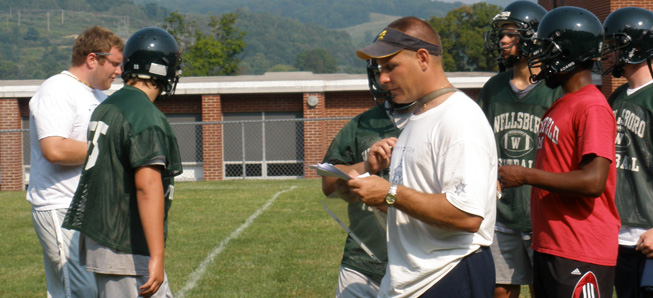 Boyce Hired as Head Coach
By: Ed Weaver | WellsboroFootball.com | January 12, 2011
The Wellsboro Area School Board approved hiring of Steve Boyce as the new high school head football coach Tuesday night. Coach Boyce becomes the 14th head coach in Wellsboro history after the board did not retain previous head coach Brandon Falk. The Hornets went 2-18 under Falk's leadership, picking up wins their only wins over Cowanesque.
In October, the board listed to a concern from parents about the coaching staff of the high school football team, in particular an incident involving Falk. Parents were in attendance Tuesday night to let the board know prior to the vote that the new coach needed to respect the team's players.
After the vote, former head coach Mike Pietropola, who is now the assistant principal at the high school and director of athletics, said the recommendation of Boyce was made by the athletic department and a committee. "This decision was a committee-based decision and we as a committee are very comfortable with this recommendation," Pietropola read from a prepared statement on behalf of the department and committee.
"We realize football is a focal point in our district and its success is not only based on the football staff, but also our community support. The Wellsboro athletic department plans on being involved in the day-to-day operation and support that coach Boyce will need."
After the meeting, Boyce, who was defensive coordinator with the team for the last two years, spoke with the Wetzels and a few other parents who were in attendance. Boyce said at this point all positions are open, but that he plans on hiring some of the staff from last year.
He said he would address the issue of respect up front before the season begins. "It's a two-way street," he said.
As coaches, he said, "We are going to yell and scream, but we'll explain why we are, because we want to make you a better person."