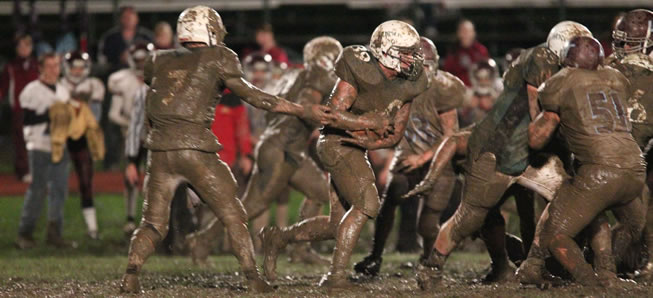 Hornets beat Loyalsock in overtime
By: Ed Weaver | WellsboroFootball.com | October 14, 2011
For the second straight week the Hornets needed overtime to pick up a win. This week, the Loyalsock Lancers fell victim to the Hornets by the final score of 13-7. Both teams played hard in sloppy conditions, but Wellsboro was able to previal for the second straight week.
After a scoreless first quarter, Loyalsock struck first at 5:16 in the second quarter on a one yard run by Mike Kinney to go up 7-0. The score remained 7-0 going into the half as Wellsboro could only mount 27 yards of total offense in the half. The second half would be another story. The Hornets used long runs by Junior Quarterback Ben Shaw and hard running up the middle by Senior Thomas Johnston. The Hornets struck at 9:07 in the third quarter on a 43 yard run by Shaw. Freshman Jack Chambers converted the extra point to even up the score at 7-7.
Both teams were held scoreless in the fourth quarter and would head into overtime. Wellsboro elected to play defense first and were able to block a field goal attempt to take over. The Hornets only needed two plays to score as Johnston punched the ball in from three yards out to seal the win.
Shaw led the Hornets in passing and rushing. He completed 6 of 16 passes for 34 yards and rushed 14 times for 89 yards and a touchdown. Johnston ran 18 times for 41 yards and a touchdown. He also added 17 tackles on defense.
With the win, Wellsboro improves their record to 4-3 on the year. The team will be back in action next Friday night as they host Troy for Homecoming. Game time is set for 7:00 p.m.