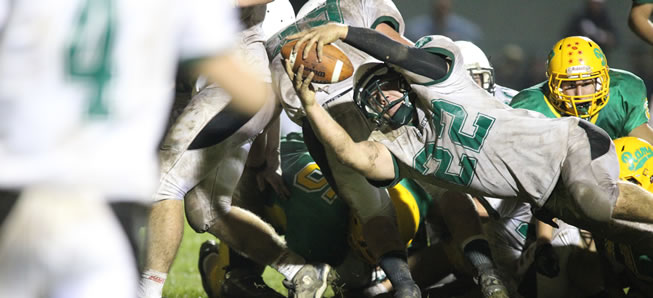 Hornets edge Wyalusing in overtime thriller
By: Ed Weaver | WellsboroFootball.com | October 8, 2011
Much like the week 3 matchup with Cowanesque Valley, Senior Running Back Thomas Johnston carried the Hornets to a 14-8 overtime victory over the Rams in Wyalusing. Wellsboro founded themselves trailing 8-0 late in the fourth quarter, but eventually woke up. Junior Quarterback Ben Shaw punched his way into the end zone with 39.2 seconds left and converted on the two-point attempt to tie the score at 8-8.
The Hornet defense came up big in overtime, as they stopped Wyalusing's Aaron Johnson on 4th down to take over on downs. Johnston would eventually ice the game for Wellsboro as he scored the game winning touchdown and brought Wellsboro's record to 3-3 on the year.
The win is Wellsboro's first win aginst Wyalusing since 2008, and the first time the Hornets have won over in Wyalusing since 2003. The Hornets wiil be back in action next Friday night as they begin a 3 game home stand against Loyalsock. Kickoff is scheduled for 7:00 p.m.