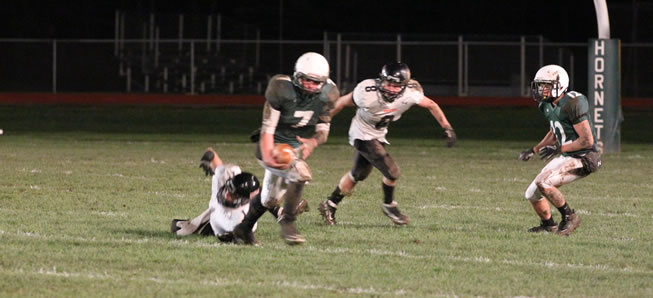 Hornets fall apart in 2nd half against Towanda
By: Ed Weaver | WellsboroFootball.com | October 28, 2011
After putting Towanda against the ropes in the first half, the Wellsboro Hornets fell apart in the second half and lost to the Black Knights, 34-14. Wellsboro started out strong against the NTL Large School champs and played a solid first half. Junior Ben Shaw put the Hornets on top midway through the first quarter when he intercepted a Trey Sites pass and returned it 73 yards for a touchdown. Freshman Jack Chambers connected on the extra point to put Wellsboro ahead 7-0.
After stopping Towanda on their next drive, Wellsboro marched down the field to the one-yard line. Shaw punched the ball in again to push the lead to 14-0. Towanda was able to get on the scoreboard in the second quarter, but missed the extra point. Neither team scored the rest of the half, and Wellsboro took an 8 point lead into the locker room. The second half was another story, however. Towanda scored early and often as they shut out the Hornets to bring home the victory.
Shaw led the Hornets ground game with 42 yards and 1 touchdown on 18 carries. He also went 9-26 for 57 yards and 2 interceptions through the air. Shaw and Senior Linebacker Thomas Johnston led the Hornet defense with 11 and 10 tackles, respectively.
The Hornets will be back in action for the final time in the 2011 season as they travel to Blossburg to take on North Penn for the Morton Jones Trophy. Kickoff is set for 7:00 p.m.