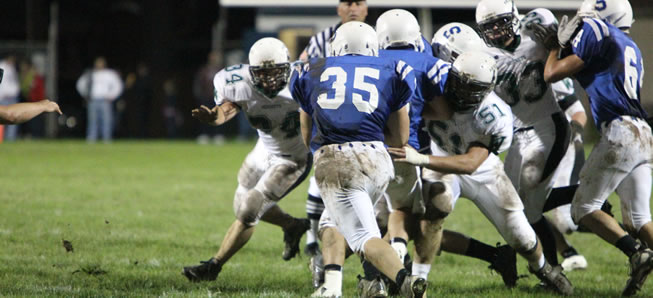 Hornets stumble against South
By: Ed Weaver | WellsboroFootball.com | September 30, 2011
After outgaining South Williamsport in the first half, the Hornets fell to the Mounties 20-6 in South Williamsport Friday night. Wellsboro received the opening kickoff and drove down the field on South Williamsport. The Hornets maintained possession of the football for most of the first quarter before turning the ball over. The Wellsboro defense would hold the Mounties and would get the ball back.
On Wellsboro's second drive, the Hornets again marched down the field. After picking up a first down on a fake punt pass by Freshman Quarterback Michael Pietropola, Junior Quarterback Ben Shaw led the Hornets to the end zone as he connected with Junior Receiver Thomas Straniere for a 39 yard touchdown. South Williamsport would rally back, however, to tie up the score at 6-6 with just 58 seconds remaining in the first half.
The second half was all South Williamsport as they turned to running backs Brandon Stonge and Matt Bartholomew. Both Stonge and Bartholomew gashed the Hornet defense in the second half. Stonge would finish the game with 135 yards on 21 carries and one touchdown. Bartholomew added 85 yards on 19 carries.
Ben Shaw led the Hornets ground game as he rushed for 50 yards on 9 carries. He also went 9-25 passing for 78 yards with one touchdown and one interception. Defensively, Senior Austin Cooper added 11 tackles while Senior Chase Barnes recorded 11 tackles and one interception for a 10 yard return.
With the loss, Wellsboro falls to 2-3 on the season and will be back in action next Friday night as they travel to Wyalusing to take on the Rams. Kickoff is set for 7:00 p.m.