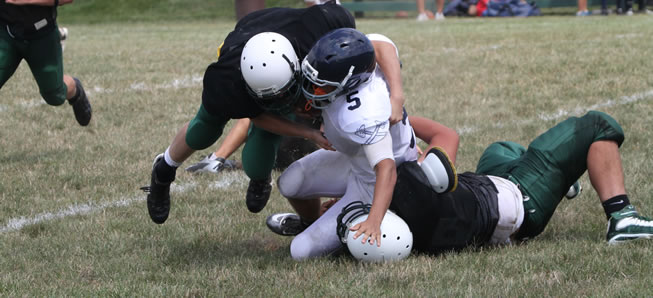 Hornet Defense keys 14-6 win over Wyalusing
By: Ed Weaver | WellsboroFootball.com | August 31, 2012
The Wellsboro Hornets picked up their first win of the 2012 football season as they defeated the Wyalusing Rams, 14-6. In 2011, the Hornets needed overtime and relied on the hard running of Thomas Johnston to pick up the vicoty. This year, however, their defense sealed the victory.
The Hornets struck in the first quarter to take a 6-0 over the Rams, but Wyalusing would fight back to tie the game 6-6 at halftime. Wellsboro's defense tightened up in the second half, as they held the Rams scoreless and only allowed two first downs the entire game.
With about a minute left, the Rams had possession of the football at their 37-yard line and were looking to drive. 15 seconds later though, Junior Linebacker Wyatt Covert clinched the NTL Large School victory for the Hornets as he intercepted a pass.
Second year head coach Steve Boyce was impressed with how the Hornets opened their season.
"It was a good, hard fought win," Boyce said. "We faced a lot of adversity this off season as we're missing five two-way starters. We had guys that stepped up in big ways tonight."
Next week, the Hornets go up against a tough Troy team
"Troy is a good team. We have to be ready for a good quarterback and faster players up front," said Boyce. "Our defense needs to make sure we keep outside contain and come ready to play in short yardage and goal line situations."
With the win, the Hornets start off the season 1-0 (1-0 NTL Large School). Tonight's win also marks the first time Wellsboro has won back-to-back games against Wyalusing since the 1980's. The last time Wellsboro won consecutive games against Wyalusing was in former head coach Russ Manney's first two seasons as a head coach. In 1985 Wellsboro won 20-12 and in 1986 won 12-0.