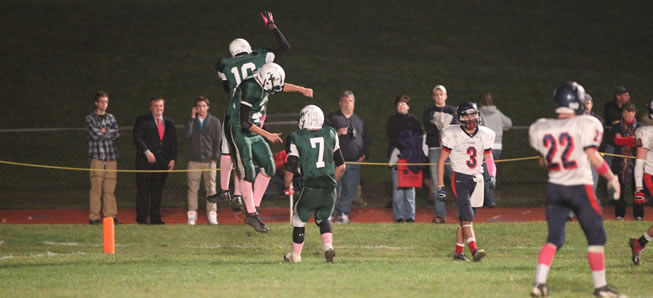 Hornets fall to Sayre in overtime
By: Ed Weaver | WellsboroFootball.com | October 20, 2012
The Wellsboro Hornets fell to Sayre in overtime on homecoming, 10-7.
The Hornets' defense set the tone from the opening kickoff and held Sayre to 166 total yards of offense. After stopping Sayre on a third down, Wellsboro took over and went to work. Led by Sophomore Quarterback Michael Pietropola, the Hornets put together a solid first drive which resulted in a 15 yard touchdown pass to Sophomore Kieron Smethers.
Sayre would get on the scoreboard with 38 seconds remaining in the first quarter to tie the game at 7-7, but both teams were held scoreless in a hard fought defensive battle and would need overtime to decide the outcome.
The Hornets won the coin toss and elected to play defense first. The defense held and forced Sayre to a field goal. The Redskins converted and would take a 10-7 lead with the Hornets having a chance to match the points. Wellsboro was unable to put a drive together in their overtime possession and would miss a tying field goal attempt to give Sayre the non-league win.
Pieotropola led the team through the air as he completed 9 of 21 pass attempts for 145 yards and a touchdown. Junior Jermain Brooks led the team on the ground with 69 yards on 15 carries and Senior Tight End Dan Saniga was the leading receiver with three catches for 71 yards.
With the loss, the Hornets fall to 4-4 (1-2 NTL Large Division). The team will be back in action next Friday night as they host the Towanda Black Knights.