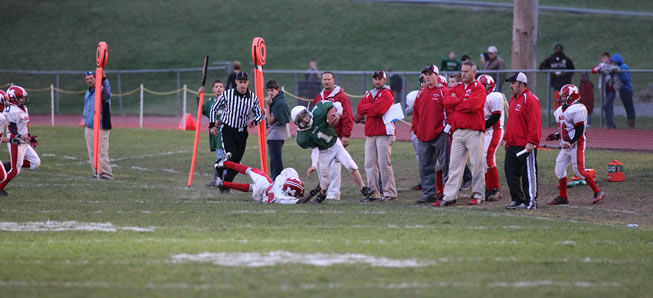 M.S. Football falls to Towanda, 16-8
By: Ed Weaver | WellsboroFootball.com | October 26, 2012
The Middle School Hornets fell short of an exciting comeback and fell to Towanda, 16-8.
The Green Hornets offense stalled on their drives through the first half. The Towanda Black Knights used a series of reverses and counters along with good field positioning to score in the second quarter, making the score 8-0. The Hornets put together a successful drive prior to halftime, but time ran out, leaving the score 8-0.
The Black Knights mounted one successful drive in the second half, making the score 16-0.
Quinn Henry and the Wellsboro passing game fired on all cylinders in the fourth quarter. Quinn completed passes to Parker Jones and Cole Cavanaugh before setting up a run into the end zone by Henry. The two-point conversion was complete on a pass to Parker Jones.
The ensuing onside kick was recovered by the Green Hornets, but the ball did not travel the required 10 yards. Towanda ran a few more plays as the clock expired.
With the loss, the team falls to 3-4 and will be back in action next Thursday, November 1 as they wrap up the 2012 season against rival North Penn.