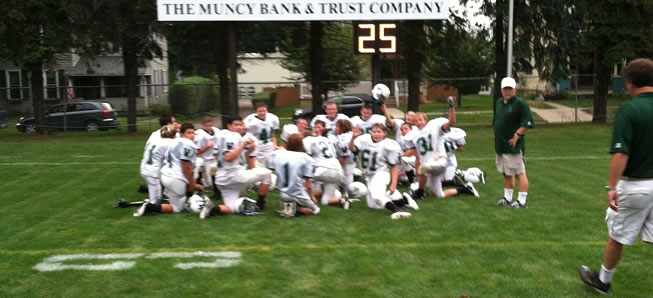 MS football picks up win over Muncy
By: Ed Weaver | WellsboroFootball.com | September 7, 2012
The Wellsboro Middle School football team opened their season on September 6, travelling to Muncy.
The Green Hornets would face early adversity, as they lost a fumble on the second play of their offensive series, giving Muncy the ball deep in their own territory. Muncy methodically moved the ball down to the ten yard line with a series of passes and runs. The Muncy offense stalled after a holding penalty and the Hornets took over from their own 10-yard line.
From that point forward, the game was all Wellsboro, as the offense controlled the ball throughout the second quarter with Quinn Henry and Cole Cavanaugh leading the charge on behind an impressive showing by the offensive line. The offense drove the ball down the field on a series of runs, finishing the drive off with Cole Cavanaugh's first touchdown of the day. Cole would score later in the quarter on the receiving end of a Quinn Henry pass play. Quinn Henry would complete the two-point conversion bringing the score to 14-0 Green Hornets at half time.
The second half was much of the same, as the stingy Hornet defense stopped Muncy on every possession, forcing a punt and controlling field position throughout the half. Quinn Henry and Nick Ingerick intercepted passes for the defense, as Parker Jones and Cole Cavanaugh patrolled the outside edge.
Cole Cavanaugh would score his third touchdown of the night and Brody Coolidge would put the game out of reach with his first touchdown of the year. The final score was 28-0 Green Hornets. The team will be at home on September 13 versus a strong Troy Trojan team.