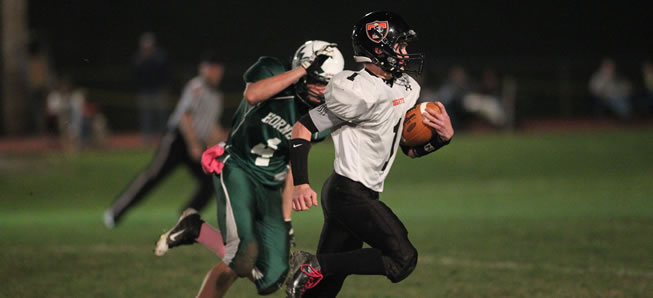 Towanda's Huff runs all over Hornets
By: Ed Weaver | WellsboroFootball.com | October 27, 2012
Towanda's Sophomore Quarterback Noah Huff put up almost 300 yards of total offense en route to a 42-14 win over Wellsboro.
Towanda was in control of the game from the word go. After the opening kickoff, Huff scored his first touchdown of the night as he out rushed the Hornet defense around the right side of the line for a 57 yard touchdown to put the Black Knights up 7-0. Huff would go on to account for 298 total yards (66 passing and 232 rushing) on the evening for the 2-7 Towanda team.
The Hornets got on the board with 4:16 remaining in the first quarter after the defense forced Dan Leljedal to fumble the ball. The Hornets marched down the field and tied the game at 7-7 when Sophomore Quarterback Michael Pietropola connected with Senior Receiver Ben Shaw on a 15 yard pass. Pietropola also eclipsed the 1,000 yards mark on the night, becoming the 5th Hornet quarterback in Wellsboro Football history* to reach that milestone.
Towanda wouldn't keep the score tied for long as they scored twice in the 2nd quarter. The first came on a 1 yard run by Justin Hunsinger and the second came on a 40 yard pass from Huff to Austin Markel. These scores put Towanda up 21-7.
The Hornets managed very little offense in the second half. The spot came when Freshman Anthony Cooper returned an interception 75 yards for a touchdown to bring the Hornets to within 14. That spark was short lived as Huff worked his magic once again for his second touchdown of the night, this time from 81 yards to put the Black Kights up 35-14. Towanda would score one more time to make the final score 42-14.
Pietropola went 11 for 28 for 85 yards through the air. He also threw 2 interceptions. Junior Fullback Wyatt Covert was the team's leading rusher gaining 77 yards on 7 carries. Senior Tight End Dan Saniga was the leading receiver on the night, as he hauled in 4 passes for 35 yards. Shaw caught 5 passes for 32 yards and a touchdown.
With the loss, the Hornets fall to 4-5 on the year (1-3 NTL Large). The team will be back in action for their final game of the season next Friday night as they host rival North Penn for the Morton F. Jones Trophy. It will also be Senior Night.
* - Records may not be accurate to date due to incomplete stats. If you know of a record not currently listed on this website, or have game statistics or film from previous years, please contact us.