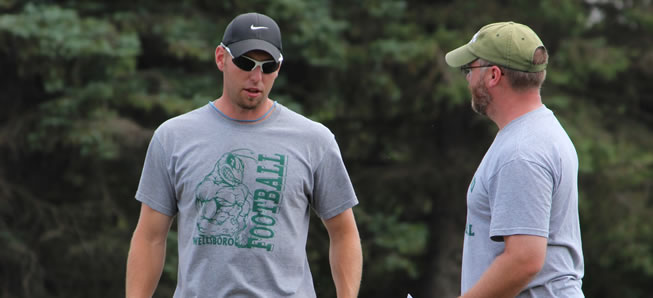 Hildebrand named new football head coach
By: Ed Weaver | WellsboroFootball.com | January 9, 2013
The Wellsboro School Board approved the hire of Matt Hildebrand Tuesday night to become the next head football coach. Hildebrand will become the school's 15th head football coach in program history.
"The Athletic Department at Wellsboro High School is excited to announce Matt Hildebrand as the next Football Coach of the Green Hornets," said Athletic Director Matt Rendos. "Coach Hildbrand brings an array of knowledge and experience as both former player and coach to the position. We are confident that Coach Hildebrand will meet all future challenges and take the program to the next level."
Hildebrand has been with the program since moving to Wellsboro in 2007. From 2007 to 2009 Coach Hildebrand has worked with the Quarterbacks, Wide Receivers, and Defensive Backs before taking the head coaching position at the Middle School for the 2010 season. Coach Hildebrand returned to the Varsity level in 2011 as the Offensive Coordinator under former head coach Steve Boyce.
"I look forward to my new role in the program as I will continue to move the program in a positve direction," Hildebrand said. "My decision to apply for the position was fairly easy due to a great group of players and also parent support.
"I realize that there are many challanges ahead and if we are going to achieve what I feel is our true potential as a football program we need to get to work right away. I am very excited about the direction of the program as a whole starting at the small-fry level and all the way to the varsity," concluded Hildebrand.
Coach Boyce was also happy with the Athletic Department's selection.
"The players like and respect him and he has a good knowledge of what Wellsboro Football is all about," Boyce said. "He has had the opportunity to work under the last 3 head coaches and that will give him a great advantage to use those things that were successful and those things that were not. I support him 100% and I hope the football community here does the same."
WellsboroFootball.com and WellsboroAthletics.com would like to congratulate Coach Hildebrand on his hire.