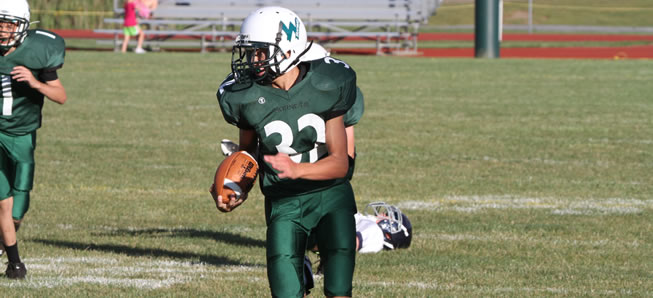 M.S. football shuts out Towanda
By: Ed Weaver | WellsboroFootball.com | September 20, 2013
The Wellsboro Middle School football team traveled to Towanda to take on the Black Knights, coming home with a victory.
The Hornet defense set the tone from the first drive in what would be the first of many three and outs for the Towanda offense. The Wellsboro offense moved the ball on a series of Chase Moser and Cole Cavanaugh runs. Chase Moser eventually finished the drive with a touchdown run on 4th down. Collin Pietropola would miss the extra point attempt making the score 6-0.

The defense would continue to be solid, led by 8th graders Collin Pietropola, Nick Ingerick, Kyler Rice and 7th graders Robert and Hunter Brown. Wellsboro would put together another drive with Chase Moser connecting with Kody Rice in the end zone for Rice's third touchdown reception of the year. The two-point conversion was successful as Chase Moser followed Pietropola into the end zone on a quarterback sneak. Dalton Prough would intercept a pass to end the half, thwarting Towanda's offense as they began to throw the ball. The score would stand at 14-0 at half time.

The second half would be a series of unsuccessful drives for both teams. Wellsboro controlled field position in the second half and did not punt on the day. Kody Rice and Chase Moser received the bulk of Wellsboro's carries with 8th grader Alex Kozuhowski contributing some carries.

The scoring would end at the buzzer as 7th grader Taynton Repard intercepted a Towanda pass and scored after the buzzer for the second week in a row, making the final score 20-0.

Wellsboro will be back in action next Thursday as the Canton Warriors travel to Wellsboro for a 5:00 p.m. kickoff.