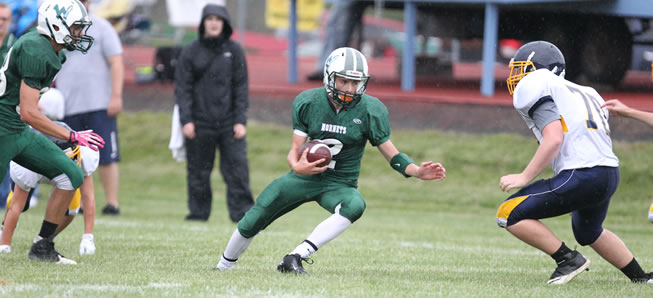 JV Football downs Muncy, 33-8
By: Ed Weaver | WellsboroFootball.com | September 9, 2014
The Wellsboro JV Football team picked up their first win of the season as the defeated Muncy, 33-8 on Monday, September 8 in Muncy.
Last week, the Hornets were leading Cowanesuqe Valley before the game was called due to severe storms. WellsboroFootball.com is still awaiting word on if the game counts as an official game.
Wellsboro scored five touchdowns in this weeks game against Muncy. Sophomore Kaleb Smith started it off when he intercepted a Muncy pass and returned it 30 yards for the score, but the following two-point conversion failed and the Hornets lead, 6-0.
Wellsboro's second touchdown came on a 40 yard pass from Sophomore Brandon Lamphier to Freshman Quinn Henry. Freshman Collin Pietropola converted the extra point to push the Hornets' lead to 13-0. Lamphier would call his own number for the third touchdown as he scampered 20 yards for the score. Following Pietropola's kick the Hornets were up 20-0.
Henry scored two more touchdowns on the night as he rushed for 40 yards and 20 yards to put Wellsboro up 33-0. Muncy would score late in the game to avoid the shut out.
With the win, the Hornets are 1-0 on the year and will be back in action on Monday, September 22 as they travel to Sayre.