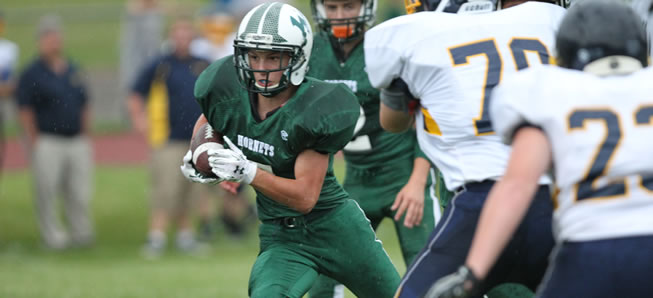 JV Football falls to Troy, 41-12
By: Ed Weaver | WellsboroFootball.com | October 7, 2014
The Wellsboro JV Football lost their first game of the season at Troy on Monday, October 6 by the final of 41-12.
The Hornets took an early lead as Freshman Quinn Henry scored on a 50 yard run to put Wellsboro up 6-0 after the extrap point was was no good. Henry scored again, this time on an 80 yard run following a Trojan touchdown, to put Wellsboro back up 12-6.
Tory would score twice to end the half and take a 18-12 lead into the break before breaking the game open in the second half to push the score to 41-12.
With the loss the JV team is now 2-1 on the year. The team will be back in action on Monday, October 13 as they host Bloomsburg.