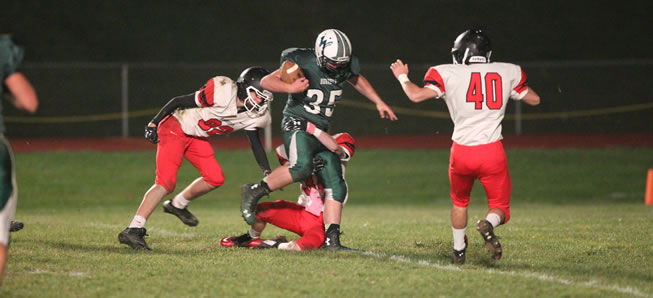 JV Football team shuts out Wyalusing, 21-0
By: Ed Weaver | WellsboroFootball.com | October 21, 2014
The Wellsboro JV Football team picked up their fourth win of the season as they defeated Wyalusing 21-0 on Monday, October 20 in Wellsboro.
Freshman Quinn Henry scored the team's first touchdown to put the Hornets up 7-0 after Freshman Collin Pietropola converted their extra point attempt and maintained that score until halftime. In the second half Sophomore Nic Spencer scored on a 15 yard run and Pietropola made the extra point to give the Hornets a 14-0 lead with 5:50 left in the third quarter.
The Hornets got the ball back with just over two minutes to play in the quarter when Freshman Alex Kozuhowski intercepted a Wyalusing pass. Wellsboro put together a nice drive and found themselves just outside of the end zone as Henry broke free on a 40 yard run. The Hornets failed to score, however, and Wyalusing got the ball back with 8:00 left in the game.
The Hornet defense would eventually get the offense the ball back and Spencer would score his second touchdown of the night on a 10 yard run with 2:54. Following Pietropola's third extra point, the Hornets were up 21-0.
The Wellsboro defense preserved the shut out late in the game as Freshman Parker Mann picked the ball off to end the game. The Hornets are now 4-1 on the year, and will play their final game next Monday, October 27 as they travel to Towanda.