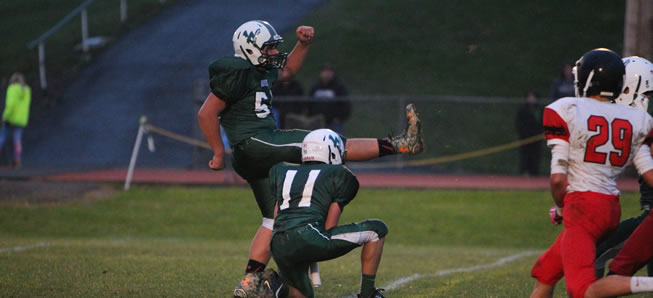 JV Hornets top Towanda 56-28 to end season
By: Ed Weaver | WellsboroFootball.com | October 28, 2014
The Wellsboro JV Football team finished the 2014 season with a 56-28 victory over Towanda on Monday, October 27.
The win was the Hornets third in a row, and fifth on the season. Freshman Quinn Henry scored five total touchdowns on the night to help the Hornets to victory. Henry scored on a 70 yard punt return, a 60 yard bubble pass, a 40 yard bubble pass and also threw a touchdown to Sophomore Brandon Lamphier.
Freshman Chase Moser broke a 60 yard run for a Hornet score and Freshman Johnny Rowland returned a fumble on a Towanda kick return for a touchdown. Freshman Collin Pietropola was also 7-for-7 on extra point attempts on the night.
The Hornets finish the 2014 season with a record of 5-1.