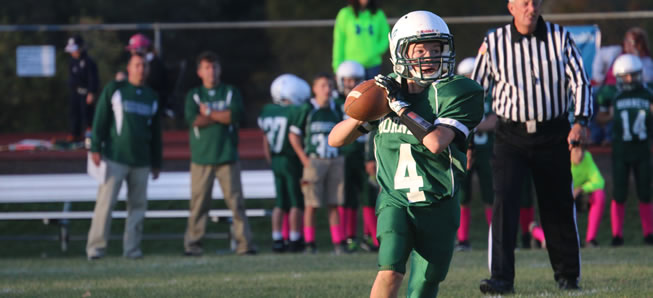 Middle School Football tops Sayre, 21-18
By: Ed Weaver | WellsboroFootball.com | October 18, 2014
Tanner Button threw three touchdown passes to give the Wellsboro Middle School Football team a 21-18 victory over the Sayre Redskins on Thursday, October 16.
Both teams only had one loss on the year as Sayre's record was 4-1 coming into the game. Wellsboro took possession to start the game and was stymied for a three and out and was forced to punt. Sayre's offense went right to work as they moved the ball down the field resulting in a score early in the second quarter. Their conversion failed, making the score 6-0 in favor of Sayre.
Wellsboro came back unfazed, as Aidan Perry broke a long run to set up the Hornet offense in the red zone. Tanner Button found Andrew Brelo in the end zone a few plays later to tie the game. Clayton Orsborn would run in the two point conversion, giving Wellsboro the 8-6 lead. The lead would be short lived, as Sayre returned the ensuing kickoff for a 70 yard touchdown. The Hornet defense would stop the two point conversion, bringing the score to 12-8 Sayre at the half.
Momentum swung Wellsboro's way to start the second half, as they recovered a fumble on the kickoff. Button found Connor Ramsey for a 35 yard touchdown pass. The conversion would fail and the Hornets led 14-12.
The Hornet defense held Sayre on four downs in the following possession putting the offense back on the field. Button would connect with Robert Brown from 22 yards out to put the Hornets up 21-12 after a successful Andrew Brelo extra point.
Sayre would not go down easy, as they quickly drove down the field to score to make the game 21-18. Sayre would recover an onside kick giving them the ball back with minutes to go in the game. Sayre drove the ball into the 10-yard line, when the Hornet defense held, eventually getting an interception from Andrew Brelo to ice the game.
The team is 4-1-1 on the year and will take on the undefeated Troy Trojans on Thursday, October 23 in their final home game.