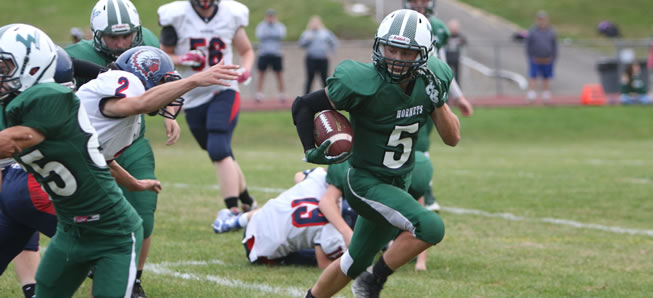 JV Football team shuts out Troy, 34-0
By: Ed Weaver | WellsboroFootball.com | October 13, 2015
The Wellsboro JV Football team picked up their fourth straight win as they shut out Troy 34-0 on Monday, October 12.
To date, the Hornets have yet to allow any points by their opponents.
After a scoreless first quarter, the Hornets scored with 7:21 remaining in the second quarter as sophomore Johnny Rowland caught a pass from sophomore quarterback Brent English and raced 46 yards to the end zone to give Wellsboro a 7-0 after senior Tyler Kennedy's extra point. The Hornets then made it 14-0 a handful of minutes later, and took that lead into halftime, as sophomore Alex Kozuhowski caught a pass from English near the Wellsboro sideline, reversed field, and outran the Troy defense on his way to a 90 yard touchdown.
The Hornets added three more touchdowns in the second half as Kozuhowski rushed for two touchdowns, one from six yards and the other from three, to increase the Hornets' lead. Senior James Mundy added a 12 yard touchdown reception in between Kozuhowski's for the other Hornet score.
"I can't say enough about our defense and the way they fly to the football," said coach Chase Kriner. "The boys came out hungry and aggressive and shut down their option game and made plays all night. We're currently outscoring our opponents 133-0, and that's difficult to do at any level."
The win improves the team's record to 4-0, with their next game coming up next Monday, October 19 at Bloomsburg.