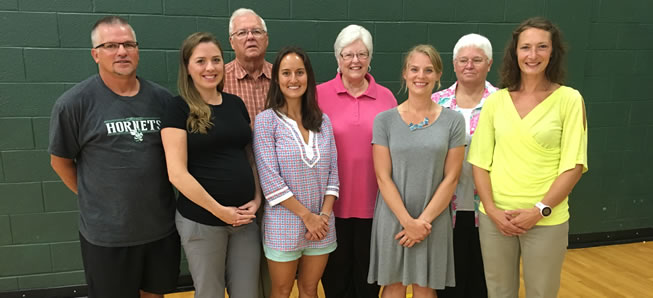 Wellsboro inducts Hall of Fame Class of 2016
By: Ed Weaver | WellsboroFootball.com | August 22, 2016
The Wellsboro Hornets Sports Booster Club and the Wellsboro Athletic Department held their inaugural Hall of Fame induction ceremony at Swarm the Hive on Sunday, August 21.
Making up the Hall of Fame Class of 2016 are athletes Phil Hickey and Tom Mann, coaches Anne McNaight and Keith Tombs, and the 1997-98 Girls Cross Country State Championship team.
Hickey was a two-time All-State selection in basketball and led Wellsboro to 3 NTL Championships. Hickey currently holds school records in points (2,584), rebounds (1,468), blocked shots (338), foul shots (409-for-607), and field goals made (1,087).
Mann competed in Track during his sophomore, junior, and senior years. Mann was the District Champion in the High Jump all three years, placed 4th in the High Jump in the state meet as a junior, and placed 1st in the High Jump in the state meet during senior year, jumping 6-feet.
Anne McNaight started coaching in Wellsboro during the 1970-71 school year. She first started coaching basketball then went on to start the volleyball and the track & field programs later that year. Combined, her teams won 29 varsity league and district championships, was the top JV team once, the best middle school team twice, and has a combined career record of 589-160-4.
"I'm highly honored and especially honored that it's the inaugural class," McNaight said. "I didn't play but my athletes did all the work. I organized them and took them to the event and they did so well. I'm so proud of all the ones, every one of them. We used to have 82 girls come out for volleyball and I'd have to make cuts, and cuts, and cuts until I got it down to a managable size. Everybody wanted to play, they wanted to be on the team wether they played or not. The parents wanted their daughter on a team to be part of a team. I feel very blessed that I coached when I did."
Keith Tombs coached for the Wellsboro from 1964-2007. He coached 8 sports for various years which amounted to 72 sports seasons in those 43 years. The teams accumulated over 1,000 victories and over 30 NTL championships. Coach Tombs served as Athletic Director for 12 years in addition to teaching math, os member of the Pennsylvania American Legion Baseball Hall of Fame and the Tioga County Sports Hall of Fame.
"It's just a tremendous honor and I can't put it in words to be honest with you," Tombs said. "This was my home for 70 years and went to school here and graduated so I played, and coached not only the parents of the kids that are here now but some of the grandparents of the kids who are here now. It's hard to express but I really appreciate the committee in doing this and recognizing people, and for all the other inductees congratulations."
The 1997-98 Girls Cross Country team is the only PIAA State Championship team in Wellsboro High School history. The girls had an undefeated dual meet season as well as being champs of the Big Valley and NTL Coaches Invitationals. They defeated rival Danville to win the District IV title and then the same Danville team by one point. The team went undefeated in dual meets for 100 consecutive wins, won 5 straight NTL titles, and were 1994 and 1997 District IV champions.
"It was a little nerve wracking because we had to wait because they kept viewing the film to see what team actually won," said 1997 Girls Cross Country head coach Aaron Yungwirth. "We had a longer wait than usual but were sort of hoping. We knew Danville was probably close but when it was over, it was pouring down rain, but we didn't worry about any of that stuff. It was a great day. It was a great finish and a great way for a couple of the girls to end their career."
"It was kind of a surprise because we weren't positive we were going to win," said Holley (Sayre) Taboada. "It was a feeling of euphoria really."
"I remember standing up on that podium and when they announced the runner-up, and it was Danville, so as soon as we heard the 'D' for Danville we just erupted," said Flori (Simonis) Prough. "It was awesome and it was a really good feeling."
"It was also extra special because we were all best friends already and it made it even more special experiencing that with our friends and sisters," said Daria (Guelig) Keyser.
"We were standing out in the pouring down rain with all this anticipation waiting for that final announcement," said Jessica Spencer.
Also taking place at Swarm the Hive was a speech from Strength Coach John DeLeonardis, a class vs. class tug of war competition won by the seniors, music from the band and cheers from the 2016 cheerleading squad, and the presentation of Lettermen's jackets to eligible athletes.
WellsboroAthletics.com would like to congratulate all of the members of the Hall of Fame Class of 2016, and would like to wish all athletic teams the best of luck during the 2016-17 season. Nominations for the Hall of Fame Class of 2017 are now open, running from now until January 1, 2017.