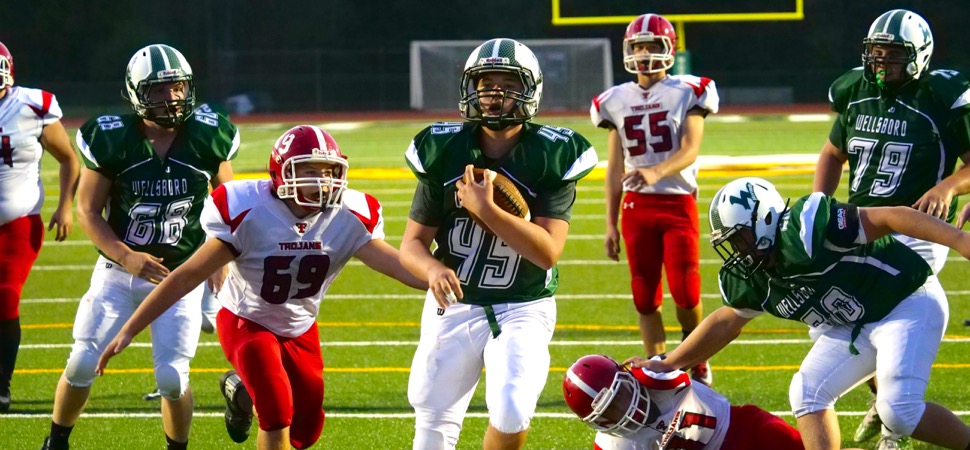 Lechler's 3 TDs lead JV Hornets past Troy
By: Ed Weaver | WellsboroFootball.com | September 26, 2017
Sophomore Billy Lechler scored 3 touchdowns as the Wellsboro JV Football team shutout Troy 40-0 on Monday, September 25.
"It was a great team win in our first home game in two years," said coach Chase Kriner. "To have a have a shutout in front of the home crowd feels great."
The Hornets took an early lead with 6:47 remaining in the first quarter as sophomore Karter Witmer connected with junior Tanner Button from 24 yards out. Sophomore Clayton Orsborn's extra point was good and the Hornets led 7-0.
The Hornets added to their lead late in the quarter as Witmer kept the ball from a yard out to make it 14-0 after the opening quarter.
The score remained 14-0 Wellsboro until midway through the third when Lechler punched the ball in from 4 yards out for his first score. Orsborn's kick made it 21-0 with 6:08 remaining. Wellsboro again added to their lead as the quarter came to an end as Button again caught a pass from Witmer, this time from 34 yards out, to make it 28-0.
The fourth quarter belong to Lechler as he scored twice more on the night to ice the game for Wellsboro. With 7:30 remaining he broke a 38-yard run through the middle of the Troy defense then later added another 4-yard score with 3:46 left to make it 40-0.
"We're starting to play some good football in all 3 phases of the game," Kriner continued. "The kids are buying into what we are coaching and applying it to game situations, which is very rewarding as a coach. We are now 4-1 and have to continue to improve each week and finish the season strong. Now it's time to prepare for the varsity game against Muncy."
Wellsboro (4-1) will be back in action next Monday, October 2 at home against Muncy.