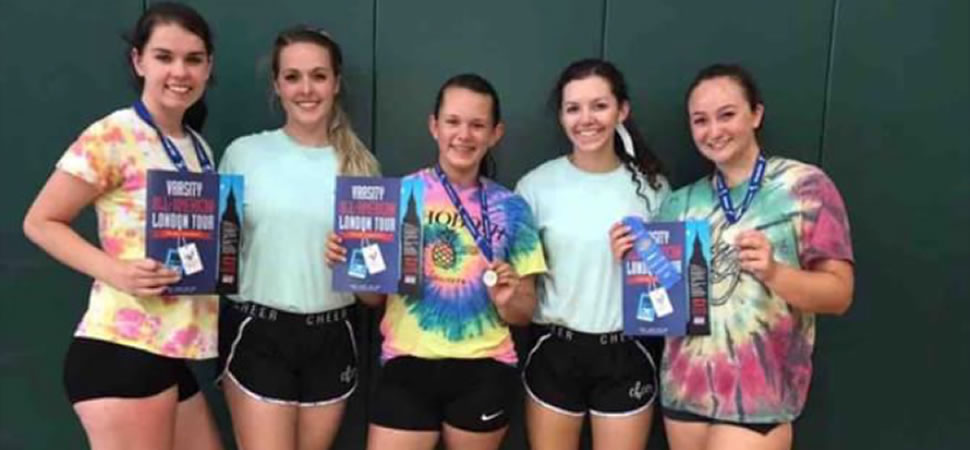 Three Hornet Cheerleaders selected as All-Americans
By: Ed Weaver | WellsboroFootball.com | September 3, 2018
Back in August three members of the Wellsboro Varsity Cheerleading were named All-Americans and earned a trip to London, England.
Senior Lexia Cover and juniors Elaine Dickinson and McKenzie Sweigart were chosen by UCA camp instructors to represent Wellsboro after an intense, three day camp and tryout. The three skills required for the tryouts were a cheer, jumps, and dance, all of which were just taught to the squad in the three days.
"I am so proud of these young ladies and would like them to continue their knowledge of cheer and the world of travel," head coach Joanne Boyd said. "This is a great opportunity for these girls to travel abroad and perform with cheerleaders from all over the world."
The girls will be leaving on December 26, 2018 and staying until January 2, 2019. They will be busy sightseeing as well as practicing for London's New Year's Day Parade. This parade will have over 10,000 performers from across the world and be televised around the world.
For Lexia, Elaine, and McKenzie to go to London, the three are doing fundraisers to raise money for the trip. Each girl will need to raise $4,000 each to cover the round-trip airfare, hotel, meals, the All-American uniform, and sightseeing tours. The first down payment for the girls is Thursday, September 6.
To help raise funds have been holding bake sales, have reached out to local businesses for sponsorships, and have started GoFundMe pages. You can help the girls out at this link and this one.