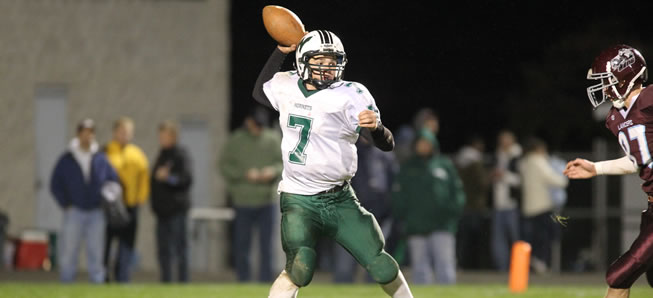 Shaw Eclipses 1,000 in Loss
By: Ed Weaver | WellsboroFootball.com | October 15, 2010
After seven weeks of the 2010 football season, the Wellsboro Hornets are now 1-6 (1-1 NTL Large School Division) after getting shut out by the Loyalsock Lancers, 47-0. The Wellsboro offense had no answer for the Lancers as they posted over 460 yards of total offense.
The bright spot for Wellsboro came from Sophomore Quarterback Ben Shaw. Shaw completed eight of his 19 passes for 109 yards. Shaw has now passed for 1,081 yards this season, becomming the fourth quarterback in Wellsboro Football History* to pass for over 1,000 yards in a single season. Shaw joins former Wellsboro signal callers Todd Coolidge, Will Osgood, and Cameron Jones in the record books with three games left this season.
Wellsboro will be in action next Friday night as they hit the road to take on NTL Large School Division foe Troy. Kickoff is set for 7:00 p.m.
* - Records may not be accurate to date due to incomplete stats. If you know of a record not currently listed on this website, or have game statistics or film from previous years, please contact us.