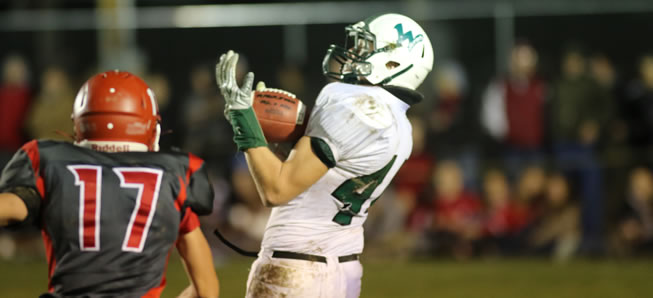 Hornets knock off undefeated Troy
By: Ed Weaver | WellsboroFootball.com | October 10, 2015
The Wellsboro Varsity Football team made a statement win on Friday, October 9 as they beat previously undefeated Troy 14-12.
Coming off a heartbreaking one point loss to Athens the week prior, the young Hornets and head coach Matt Hildebrand knew they had to respond.
"It shows a lot of character from our guys after last week," Hildebrand. "We had a great week of practice, probably our best week of practice all year and it translated really well tonight. We were in a similar situtation defensively late in the game like last week. We learned from last week and we came up with huge stops. Troy is a team that really hasn't been stopped this year and the defense just played great. To hold (Ben) Sherman the and offense, hats off to the kids."
After the Hornets' first drive ended on an interception, the defense stepped up and held Troy on 4th-and-3 from the Wellsboro 25-yard line to take back over after an 11-play drive by Troy. Wellsboro would put together a 14-play drive that took up the rest of the first quarter, but the drive eventually stalled out at the Troy 9-yard line.
The Hornets got the ball back with great field position, however, thanks to special teams. After forcing Troy to punt from their own 23-yard line, junior Parker Jones blocked the punt and recovered it inside the 10-yard line. Four plays later, sophomore quarterback Quinn Henry found Jones open in the end zone from 5 yards out to take a 7-0 lead with 7:03 left in the first half.
"They were blocking inside pretty good, so I broke my route out and Quinn found me," Jones said.
The teams would trade possessions to the end first half with the Hornets keeping their 7-0.
Troy received the ball to start the second half, but had their first drive end the way Wellsboro's first drive of the game end, on interception. Sophomore Chase Moser picked the ball off, setting the Hornets up with a first down from their 34-yard line. The Hornets went to their run game, as Henry, Moser, and senior Nick Tremper carried the ball to move into Troy territory. On second down from the Troy 45-yard line, Henry floated a pass down the sidelines to Jones, who fought to find the end zone for his second touchdown of the night. Sophomore Nic Ingerick's extra point was good and Wellsboro led 14-0 with 5:30 left in the third quarter.
The Trojans' next drive ended with another turnover, as the Wellsboro defense forced a bad option pitch and recovered the ball at midfield. The Hornets drive went nowhere, however, and the Hornets we forced to punt the ball back to Troy. Troy was able to mount a scoring drive as long runs from Sherman and Collin Binford eventually got the ball into Wellsboro territory. The Hornet defense forced Troy into a 4th-and-10, but Sherman slipped out of the back field on a screen pass and took it 29 yards to the house with plenty of blockers in front of him to the end zone. Binford's ensuing extra point caught a gust of wind and hooked left to make the score 14-6 Wellsboro with 9:25 remaining in the game.
Wellsboro recovered Troy's squib kick and put together an 11-play drive, eating up more clock. The Hornets turned the ball back over as Henry was under heavy pressure and fumbled the ball. Sherman was in the right place at the right time as he picked the ball up at took it to the house from 45 yards out for another Trojan touchdown. The Hornet defense rose to the occasion and stopped Troy on their two-point conversion attempt to make the score 14-12 Hornets with 5:17 remaining.
Wellsboro tried running the clock out on their next drive, but gained minimal yards and were forced to punt the football back to Troy. A 45-yard punt from sophomore Collin Pietropola pinned Troy at their 19-yard line. A 10 yard run by Troy's Nathan Swain, followed by a 12 yard run by Hunter Cohick got the ball out to the Troy 42-yard line.
The Hornets were helped out with a 10-yard holding penalty, forcing the Trojans to start throwing the ball. Clark Jackson found Binford for 6 yards, but his next pass on 3rd-and-14 fell incomplete. On fourth down Troy tried the screen pass to Sherman again, but Jackson's pass fell short, turning the ball back over to Wellsboro to run out the game and giving Troy their first loss of the year.
"We had a great week of practice this week," Tremper, who led the team with 18 carries for 72 yards, said following the game. "We were focused, and we knew we had to stop Sherman. The line played great, linebackers filled up field well, and our secondary played great once Troy started throwing the ball. It was just a great all-around team win."
"It was a tough one tonight, they were big, physical kids just like us," said senior Owen Covert. "They really came to play tonight. We had to get better after last week giving the game up at the end and finish. We did that tonight."
Henry finished the game 4-for-10 passing for 73 yards with 2 touchdowns and an interception. He also rushed for 26 yards on 13 carries. Moser ran the ball 10 times for 38 yards and Jones caught all four passes for 73 yards and 2 touchdowns.
"Everyone did their part tonight and it was a group effort win and the offensive line was awesome," Henry said.
"Everyone did a great job defensively," continued Jones. "We had a lot of play calls go against him (Sherman) and everone just executed very well."
Jones made 10 tackles and forced a fumble on defense. Freshman Robert Brown was the team's leading tackler with 12 stops, Tremper added 9 tackles, Moser finished with 7, and sophomore Johnny Rowland recovered a fumble.
The Hornets are now 5-1 (1-1 NTL Division 1). Next week the Hornets host Bloomsburg as part of Homecoming festivities on Friday, October 16.
"Homecoming weeks are always crazy and I'm not a big fan of them to be honest," Hildebrand continued. "There are so many distractions but we have to stay focused on the job we have at hand. Bloom is very young, but they're big and getting better from what I hear. We need to come out fighting."