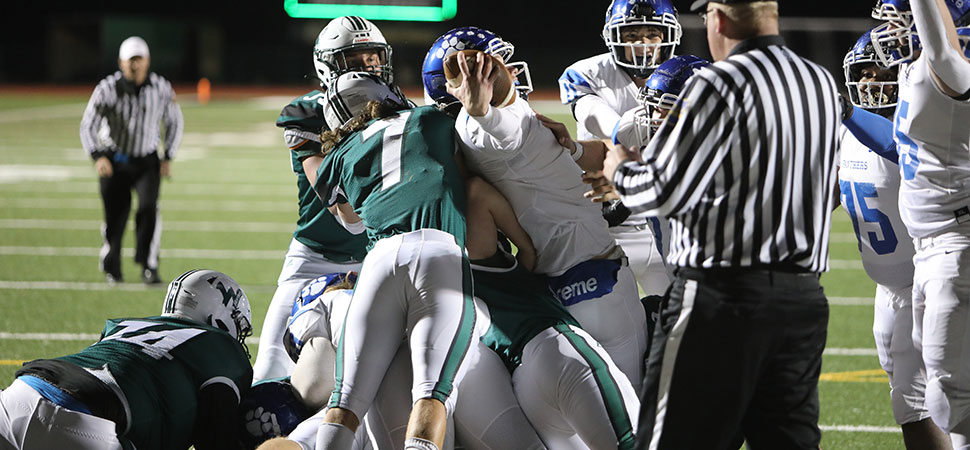 North Penn Outlasts Wellsboro To Regain Morton Jones Trophy
By: Ed Weaver | WellsboroFootball.com | October 29, 2022
The North Penn-Mansfield Panthers ended the Wellsboro Varsity Football team's season with a 24-21 win to regain the Morton F. Jones Trophy on Friday, October 28.
North Penn scored on their opening drive just over four minutes into the game as Wellsboro fumbled the opening kickoff. Starting at the Wellsboro 45, the Panthers put together 15-play drive that culminated in a QB sneak by Karson Dominick giving them a 6-0 lead with 7:52 remaining. The Hornets answered back on their ensuing drive and would take their first lead of the game. Starting at their own 43, the Hornets relied on their ground attack, featuring runs of 10 and 15 by sophomore Ryder Bowen, and 11 and 14 by sophomore Will Gastrock. Gastrock scored from a yard out, and senior Jack Poirier made the extra point to put the Hornets in front, 7-6, with 2:51 left in the opening frame.
Wellsboro forced the Panthers to punt on their next drive, but another special teams turnover gave the ball back to the Panthers, where they retake the lead. After a penalty moved the ball to the Hornet 34, a 20-yard run by Kohen Lehman gave the Panthers a 1st down at the 13. Dominick found Alex Davis for a 7-yard gain to the 6 and then called his own number to hit pay dirt with 9:58 left in the half. North Penn attempted a two-point conversion but failed, putting them up 12-7.
Wellsboro tacked on one more score late in the half to retake the lead, 14-12. Wellsboro started at the Panther 30 and needed only six plays to find the end zone as Gastrock ran in from 3 yards out.
Once the second half started the Panthers found the end zone twice as Dominick connected with Sammy Lawrence from 25 yards out to retake the lead. Their two-point conversion failed, but the Panthers led 18-14 with 9:07 remaining. Just over three minutes later, Lehman broke free on a 56 yard run to put the Panthers up 10, 24-14 with 5:59 remaining.
North Penn-Mansfield held their 10-point lead until the 8:04 mark of the fourth quarter when Gastrock scored on a 7-yard run to cut the lead to 24-21. After Wellsboro's last touchdown the Panthers ran 10 plays and chewed up the majority of the quarter. Wellsboro did get the ball back late, but were held on downs, giving the Panthers the win.
Wellsboro finished with 212 yards on the evening, led by Bowen with 103 yards on 14 carries and 94 yards on 15 attempts from Gastrock. Senior Conner Adams also added 15 yards on 6 carries and caught two passes. Gastrock was 3-for-7 for 13 yards with senior Spencer Wetzel catching a pass for 13 yards.
Senior Cameron Brought made a career-high 17 tackles, Wetzel made 11 stops, junior Hayes Campbell added 9 tackles, and Bowen and senior Wyatt Gastrock recorded 8 tackles each.
Dominick finished 10-of-27 for 122 yards and a touchdown to lead the Panthers while Lehman rushed 30 times for 134 yards. Lawrence caught 4 passes for 48 yards.
The loss ends Wellsboro's season at 1-9 (1-7 NTL Large School Division). North Penn-Mansfield finishes the regular season 3-7 (3-6 NTL Large School Division) and will take on top-ranked Mount Carmel next Friday in the District IV Class AA playoffs.
The loss also brings the careers of Adams, Poirier, Wetzel, Joe Brown, Gunnar Bowen, Blake Levindoski, Brought, Conner Baker, Trevor Ash, Wyatt Gastrock, and Travis Woodward to a close.
Adams finished the year 53-for-93 for 548 yards and 5 touchdowns, and was also 64-for-109 for 783 yards and 8 touchdowns for his career. He rushed 80 times for 138 yards and 4 scores and 186 times for 756 yards and 14 scores for his career.
Poirier caught 22 passes for his career for 345 yards and 3 touchdowns while leading the Hornets with 287 yards and 3 scores on 20 receptions. Wetzel led the Hornets with 27 receptions for 240 yards and 2 touchdowns. For his career he caught 32 passes for 358 yards and 4 touchdowns.
Bowen made 5 tackles this season and for his career, Levindoski made 44 career tackles and recovered 2 fumbles, with 41 tackles coming this season. Brought tied Ryder Bowen with 100 tackles this season, giving him 197 for his career in addition to 1 forced fumble, 3 recovered fumbles, and 6.5 sacks. Baker finished with 10 career tackles (7 this season), Ash made 25 stops, Wyatt Gastrock finished with 59 tackles this season and 81 for his career, and Woodward made 3 career stops.
Brown finished with 313 career rushing yards on 68 carriers with a touchdown, 361 yards on 34 receptions, and made 184 career tackles to go along with a forced fumble, 2 recovered fumbles, 2 sacks, and an interception.