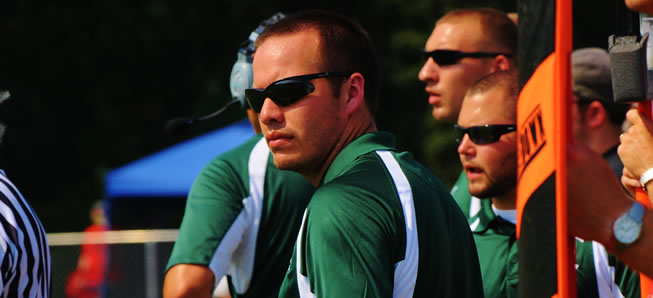 Jared Hurlbert hired by Brockway
By: Ed Weaver | WellsboroFootball.com | March 22, 2012
Wellsboro Varsity assistant football coach Jared Hurlbert has been officially hired by Brockway. Hurlbert, a member of Wellsboro's graduating class of 2001, has been involved with the Wellsboro program for the past four years. Before being hired as a Varsity assistant in 2011, Jared spent the prior three years helping out in the Small Fry program. In addition to coaching, Jared is the single-season interception leader in the Wellsboro Varsity Record Books with nine during the 2000 season*.
At Brockway, Jared will take over coaching the wide receivers and defensive backs, and will also be the co-defensive coordinator.
"I'm excited to be a part of a new coaching staff here in Brockway. I'm thankful that I got the opportunity to coach with coaches Steve Boyce, Matt Hildebrand, Nate Babcock, and John Johnston this last year. They were a great group of guys and each one has taught me certain aspects to the game that I will use this year when coaching the defense."
"Jared will be missed next year on the staff," said head coach Steve Boyce. "Jared loves Wellsboro football and showed it by helping and supporting every age level team we have last year from the small fry, to junior high, to JV and varsity.
"I think he aspires to be a head coach one day, and this experience as a defensive coordinator will help him understand the role better than being a position coach," concluded Boyce.
WellsboroFootball.com would like to congratulate and wish Jared the best of luck in his new role at Brockway.
* - Records may not be accurate to date due to incomplete stats. If you know of a record not currently listed on this website, or have game statistics or film from previous years, please contact us.